Board of Governors
The SEACEN Board of Governors (BOG)
The SEACEN Board of Governors (BOG) is the highest policy-making body of The SEACEN Centre (SEACEN). The SEACEN BOG members comprise Governors of all member banks. The Chair of the SEACEN BOG is elected from among Governors of member banks annually on a rotation basis. The SEACEN BOG Meeting is held once annually, in conjunction with the SEACEN Governors Conference and High-Level Seminar, and is hosted by the member bank of the Chair of the SEACEN BOG.

Following the decision at the 30th SEACEN BOG Meeting in 2011, the SEACEN BOG will decide on the following matter, upon recommendation by the SEACEN EXCO:

Appointment of Executive Director of SEACEN;
Approval of annual budget and programme of activities of SEACEN;
Admission of new member banks and observer banks to SEACEN; and
Any other matters of strategic importance to SEACEN.
Current Board of Governors
Bank of Thailand
Dr. Veerathai Santiprabhob
Governor

BOG Chair
Autoriti Monetari Brunei Darussalam
YM Awang Yusof bin Hj Abd Rahman
Managing Director
National Bank of Cambodia
People's Bank of China
Hong Kong Monetary Authority
Mr. Norman T.L. Chan
Chief Executive
Reserve Bank of India
Dr. Urjit R. Patel
Governor
Bank Indonesia
Mr. Perry Warjiyo
Governor
The Bank of Korea
Bank of The Lao PDR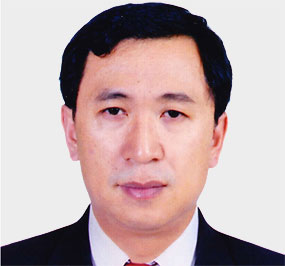 Mr. Sonexay Sitphaxay
Acting Governor
Bank Negara Malaysia
Datuk Nor Shamsiah Mohd Yunus
Governor
The Bank of Mongolia
Mr. Nadmid Bayartsaikhan
Governor
Central Bank of Myanmar
U Kyaw Kyaw Maung
Governor
Nepal Rastra Bank
Dr. Chiranjibi Nepal
Governor
Bank of Papua New Guinea
Mr. Loi M. Bakani
Governor
Bangko Sentral ng Pilipinas
Mr. Nestor A. Espenilla, Jr.
Governor
Monetary Authority of Singapore
Mr. Ravi Menon
Managing Director
Central Bank of Sri Lanka
Dr. Indrajit Coomaraswamy
Governor
Central Bank, Chinese Taipei
Dr. Chin-Long Yang
Governor
State Bank of Vietnam
Mr. Le Minh Hung
Governor